A carpentry contractor with: Commitment, Creativity, Craftsmanship
It goes without saying that our joinery is of the highest quality, with fine finishes and built-in performance. But the key ingredient is our people, and their unwavering commitment to your success.
It starts with collaboration. It ends there too. And in between, our approach to work is a commitment to integrity, a continued aim for excellence, and big picture thinking that creates inspiring living, learning, and work spaces.
A great partnership is down to great people. We're the carpenter company chosen by the leaders in construction and fit out because we take a team approach. Choose JoinPro, and know you're adding carpentry contractors to your team of experts.  Enjoy our ability to step up and take full control and responsibility, and to deliver projects with hassle-free, spot-on reliability. Our willingness to commit, our creative, honest approach and master craftsmanship are the essential ingredients that make up the JoinPro difference.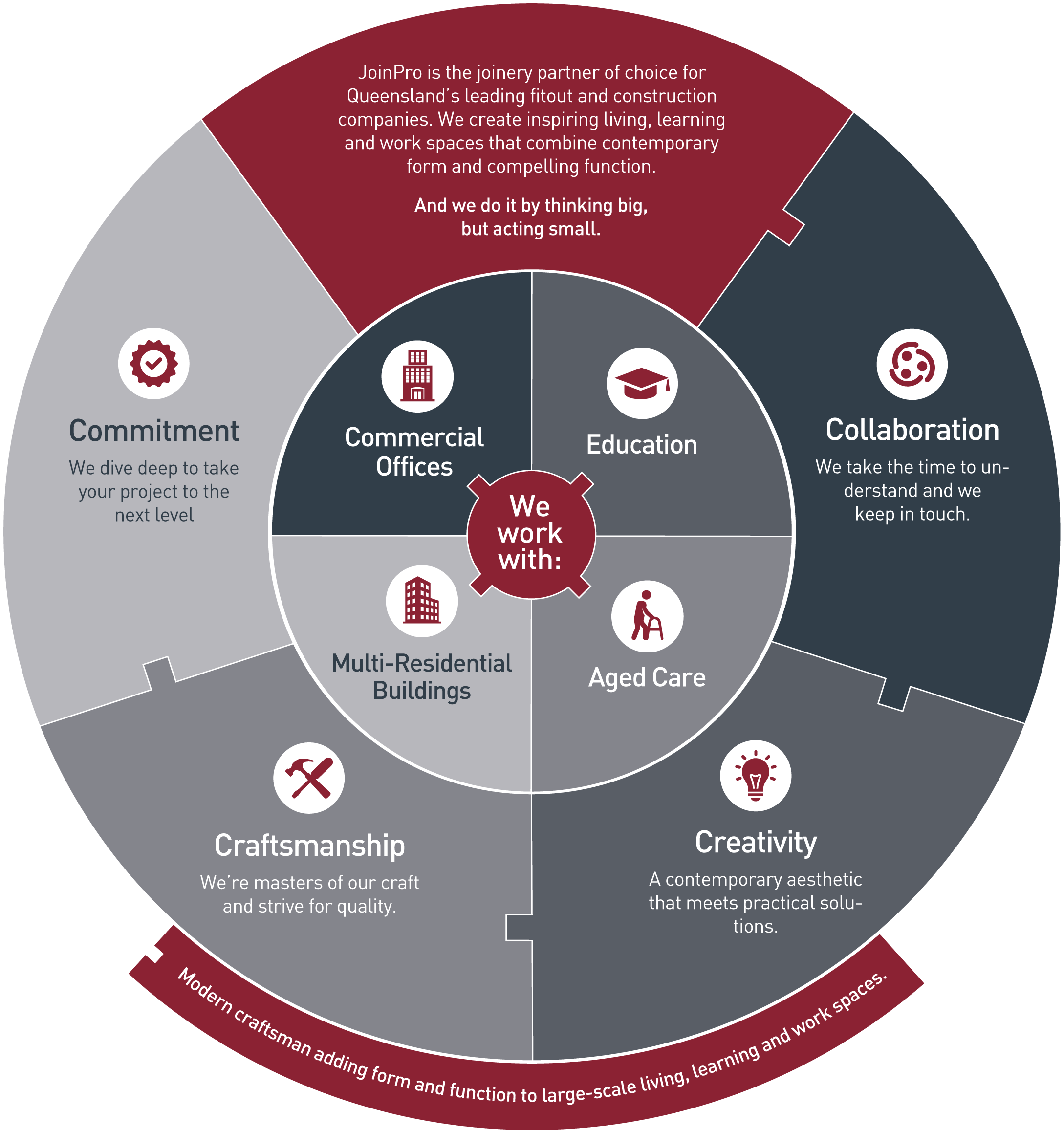 JoinPro is the joinery partner of choice for Queensland's leading fitout and construction companies. We create inspiring living, learning and work spaces that combine contemporary form and compelling function.
And we do it by thinking big, but acting small.
Collaboration
We take the time to understand and we keep in touch.
Creativity
A contemporary aesthetic that meets practical solutions.
Craftsmanship
We're masters of our craft and strive for quality.
Commitment
We dive deep to take your project to the next level.
We work with:
Multi-Residential Buildings
Modern craftsman adding form and function to large-scale living, learning and work spaces.
Adding value and functionality to spaces
475,000m2
Melamine and veneer board
140,000
Cupboard door hinges