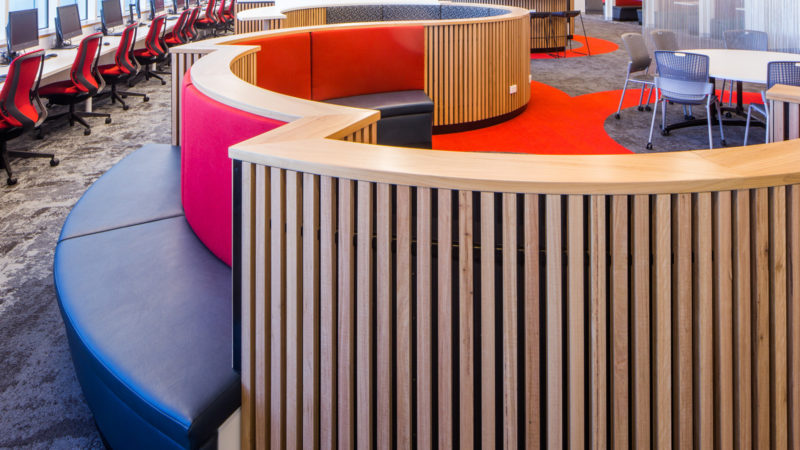 Australian Catholic University Mercy Building
Education | Buildcorp
Advancements in teaching and learning inspired the striking architectural design of the Mercy Building situated on the Australian Catholic University (ACU) campus in Banyo.
The new home for ACU's Marketing, Human Resource, IT and Teaching and Learning staff, the five-level building boasts panoramic views of Brisbane from its top-floor functions space and features a host of innovative learning spaces. The bespoke joinery throughout is befitting of one of Australia's newest centres for learning excellence.
The Details
A true collaboration, the Mercy Building's design was informed by a consultation process involving staff, students and ACU executives led by architects, Thomas Adsett. The result was a strikingly unique combination of individual and shared learning spaces that represent the very latest in design for learning environments,
Soaring ceilings and sweeping curves created a satisfying challenge for the JoinPro team. Vertical timber panelling lines significant portions of each level, and has been used in a multitude of forms. This creates points of interest, differentiates between areas, and divides expansive, open spaces into discrete meeting hubs and workspaces. Each floor also incorporates an array of seating options that have been beautifully upholstered in eye-catching colours and patterns, as well as custom cabinetry and shelving for housing technology, resources and equipment.
And perhaps one the most exciting design features are the curved meeting alcoves. Upholstered from floor to ceiling, they provide students with a space for conversation or quiet study.
Every aspect of the Mercy Building's interior fit-out inspired JoinPro and its suppliers to deliver the highest possible standard of work. While our extensive experience in the project management of large, complex fitouts ensured an exceptional outcome.