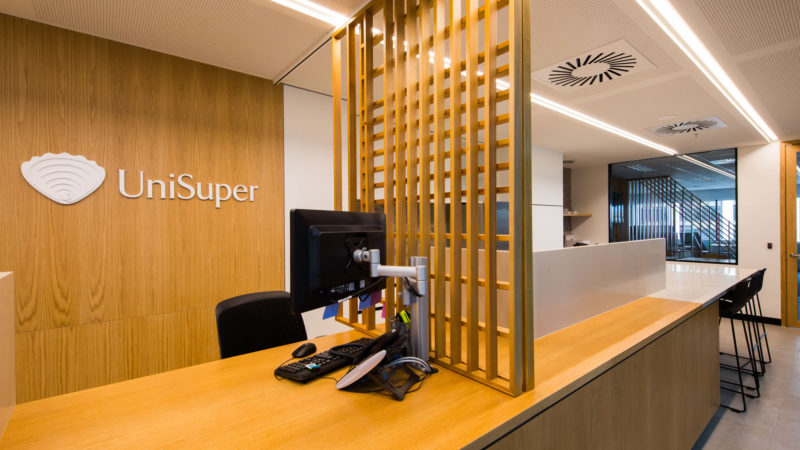 Unisuper
Commercial | FDC Building
A specialist super fund for Australia's higher education sector, Unisuper is also one of Australia's largest super funds. Rewarding their people and creating an engaging workspace is high on their list of priorities. An office refit has provided a fresh new space for Unisuper employees to enjoy.
It's a well-designed office space that features timber joinery throughout the fitout. JoinPro's production, project management and installation teams worked closely with FDC Building and Unisuper to produce an exceptional finished office space – within six weeks of ordering.
The Details
On paper timber screens sound plain, but in execution they add an incredible wow factor to this office. Visitors stepping out of the elevator and into the lobby are greeted by warm Tasmanian Oak panelling that creates eye-catching lines and shadows. Adding warmth and an architectural finish with timber to a traditional corporate space ensures there is a real point of difference in the look and feel of this office.
In the large reception, Corian and timber screen add privacy, while two pac painted furniture makes a modern statement while adding practical storage facilities.
A breakout area with upholstered banquet seating and a timber privacy screen is the place for uninterrupted work or relaxation, while a library with built-in shelving is another quiet space to be enjoyed.
Throughout, the timber does more than just add a style statement – it injects functionality and comfort for Unisuper employees, delivering on their commitment to create an enriching environment for their people.