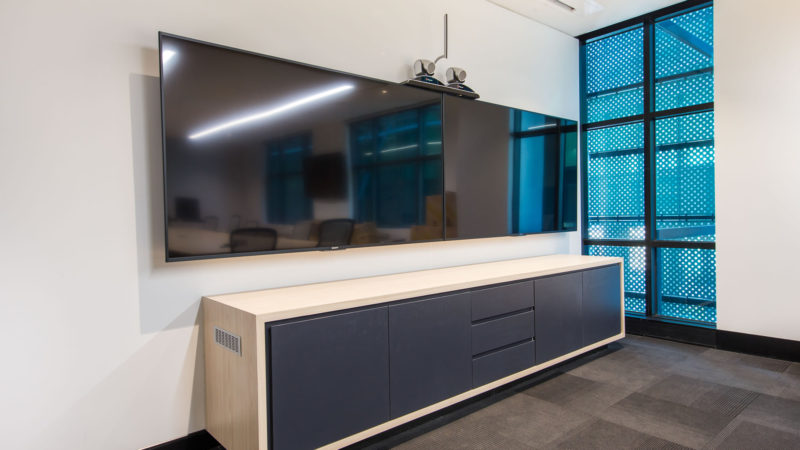 Slater & Gordon
Commercial | Buildcorp
One of Australia's most recognisable law firms, Slater & Gordon has given its Brisbane office a fresh new look and JoinPro was pleased to be part of the team.
Working with Buildcorp, we completed a refresh of the reception, kitchen and screening throughout the office in a compressed timeframe. With a complete project management service approach, we offer the skills, experience and industry insight to be true collaborators on complex, time-sensitive projects such as this. It was a pleasure to work with Buildcorp to deliver on our promise.
The Details
Slater & Gordon's two reception areas seat three and two people respectively. The two spaces are brought together by a striking Caesar stone desk on the hob. Working with this feature piece, we used Supawood cladding – a light coloured timber that blends with the stone material. This prefinished batten product was used for cladding the walls and the ceiling, creating deep shadows and lines.
The community style kitchen area features a variety of seating – with a long communal table, and smaller tables with boost seating. The seating configuration and use of White Birch timber delivers a unique touch in an area that's usually utilitarian in its look and feel. It's a space that's multifunctional, one that Slater & Gordon employees can truly call their own. Cabinetry in a separate tea room was designed to tie into the main kitchen area.
Throughout the office, timber fins add privacy and give a luxurious feel to the workstations. We custom built a sleek modern credenza in the boardroom to add extra storage. And another large storage cabinet was constructed for the printing room – giving ample storage and ensuring the room is tidy, functional and comfortable to use.