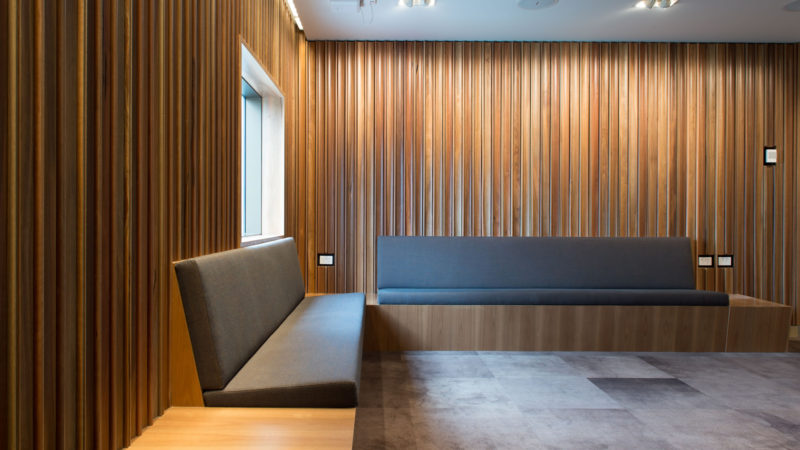 QUT Gardens Point S Block
Education | Kane Constructions
QUT's Gardens Point campus is located in the heart of Brisbane's CBD, near the Botanic Gardens, Parliament House and the Old Government House. The campus hosts the business, law and engineering faculties and has been designed for flexible, collaborative learning. Built-in technology and furniture that can be configured according to different learning needs is a key feature.
We recently worked at the QUT Gardens Point campus to refurbish a seminar room, kitchenette, lobby and breakout area.
The Details
Vertical timber panelling throughout the three spaces gives a warm, modern look. With such a large space to manage we called on our established supplier networks to ensure we had the quantity of materials needed, in the tight timeframe required.
Our custom joinery solutions included fitting a very large tv screen into the timber panelling in the seminar room – ensuring a neat and tidy appearance.  We also built in upholstered timber benches to give students a place to sit and relax. The natural tones of the timber panelling were offset by two striking chandeliers in the lobby and breakout areas – giving these spaces a warm glow.
With students taking exams in adjacent rooms, it was absolutely essential that the project was carried out with maximum care and consideration to minimise any disturbance. Our on-site team worked with the university to achieve this, and to deliver the project on time, even accounting for a challenging timeframe due to supplier delivery schedules.