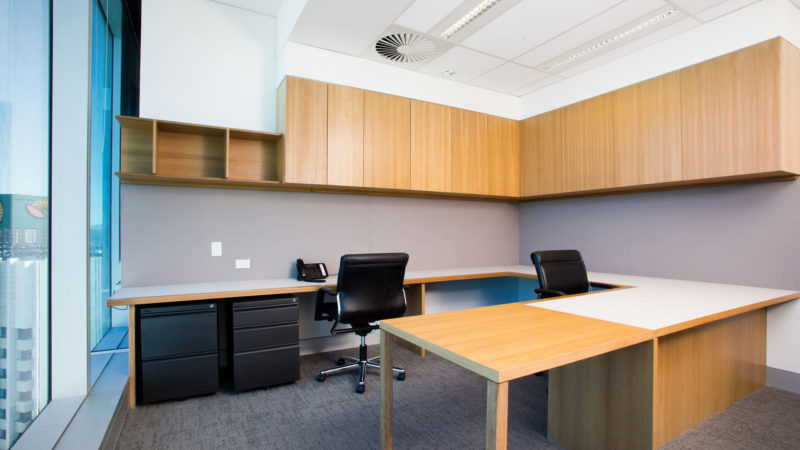 QCA – Queensland Competition Authority
Commercial | Amicus
One of the most rewarding aspects of our job is working with our design partners to bring their vision to life with our craftsmanship and quality products. We recently collaborated with workspace designers Amicus to give the Queensland Competition Authority (QCA) offices a refreshed and understated elegant look.
This large project was executed in a time crunch of six weeks – and we delivered on time as promised, demonstrating our commitment to stepping up and doing more for our clients.
The Details
Tallowwood timber was a key feature in this project – and it was used in creative and inspiring ways. Throughout the office we installed timber partitions and we used timber in window and door frames rather than aluminium to give an elegant and thoroughly modern feel.
The JoinPro team also worked on the following key features:
Executive desks – in all meeting rooms vinyl top desks were finished with timber edges, while coat and storage cupboards were covered with timber veneer.
Kitchen – this large welcoming space features solid timber benchtops, breakfast and dry bar area that can seat around 10 people. It also features library shelves for books and magazines – as the kitchen was designed to be a place of convenience, rejuvenation, and a social hive.
Reception – a solid timber desk greets visitors. We made the most of the beauty of the natural grain and shades of the Tallowwood species by incorporating an eye-catching vertical and horizontal panelling feature. A favourite is the joinery on the large bench-style seating in the reception and separate waiting area.
Planter boxes – plain solid timber joinery completed the planter boxes under the stairs – with the warm natural look of timber marrying seamlessly with the greenery.
The result is a stunning modern workspace that enables staff all the functionality they need, with added extras to delight and create a welcoming environment at work.