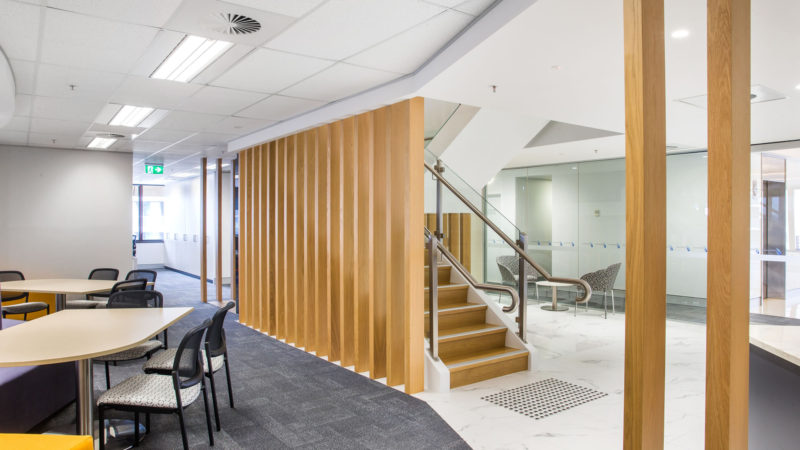 Logicamms
Commercial | Formula Interiors
LogiCamms is an engineering company with an impressive 25-year legacy of building strong solutions for their clients. With quality at the heart of what they promise, their new joinery needed to strongly complement their brand values and warmly welcome visiting clients.
Working closely with LogiCamms and Formula Interiors, we manufactured and installed joinery across two levels of their building in the Brisbane CBD – transforming their reception and kitchen areas into warm spaces to be enjoyed by staff and visitors alike.
The Details
Large American Oak panelling that stretches the full height of the two stories acts as a screen for the staircase, while seamlessly bringing split level space together. This durable, hardwood panelling is extra wide and is the showcase of the room – adding a grandeur that both complements the other design features and stands out as completely unique.
This timber touch was carried through to the stairs with matching treads – the wide slats look strong and substantial – and they are. The treads are durable and will withstand wear and tear for years to come. The materials used here are a perfect symmetry between LogiCamms' brand values and identity.
A simple reception was integrated into the area, with timber playing a key role here to discreetly screen working areas while still adding warmth and depth.
Upstairs the new kitchen is now a large, open space that can easily fit several people preparing lunch all at once. It's elegantly screened with matching large timber slats that complement the timber joinery and cabinetry. We created a space that's functional and feels good to use, installing benches, cupboards, a breakfast bar for casual eating, and a dry bar area with upholstered banquet-style seating along one wall, which allows people to relax and connect at work.
In addition, we created the joinery for a smaller tea room space that's fully equipped with a sink and dishwasher for convenience. These eating areas serve as the social hub for LogiCamms employees and contribute to a great working culture.